AWS Security Assessment for Regulated Industries
Structured review of AWS security measures to meet regulatory requirements
Based on a pre-defined scope, Skaylink's AWS Security Assessment for regulated industries evaluates your security measures. Within this scope, we address your individual requirements – whether it is your landing zone, cloud platform or specific workloads. Through a series of structured interviews, we work with you to assess your technical and organizational measures for identity and access management, infrastructure security, detective controls, incident response, and data protection. This is not an audit or penetration test. We foster open communication and do not believe in a "blame culture". We partner with you to identify potential for optimization and outstanding issues so that we can address them together.
The goal of the security assessment is to provide a realistic picture of the current state of measures to jointly uncover opportunities for improvement in security and compliance. Following the interviews, we provide you with a detailed report that prioritizes and describes the findings and recommends actions based on AWS best practices.
Especially in highly regulated industries, we understand that implementations in IT also require well-maintained documentation. In addition to the interviews, we can include a review of your documentation in the report. We also provide automated review and assessment of technical security measures for AWS accounts defined in scope.
By involving internal and external AWS experts as well as other internal stakeholders, we jointly create a comprehensive picture of the security posture. You will have the opportunity to discuss security in your AWS environment across departments.
Selected offers from the Skaylink portfolio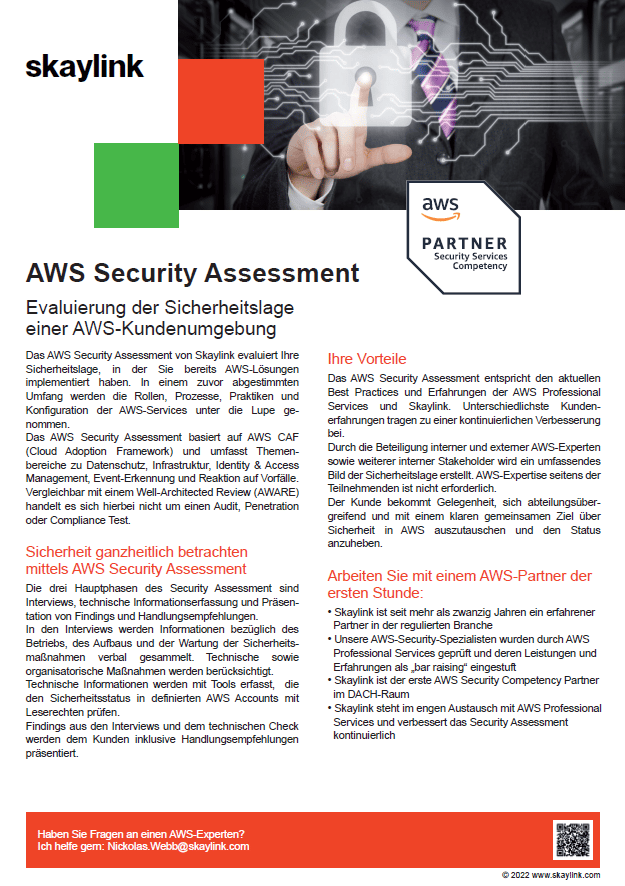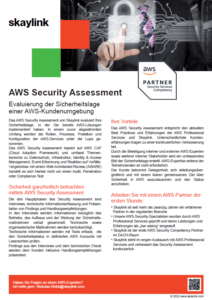 Evaluating the security posture of your AWS environment using AWS Security Assessment
By involving internal and external AWS experts as well as stakeholders of your company, a comprehensive picture of the security posture is created. The AWS Security Assessment covers data protection, infrastructure, identity and access management, event detection, and incident response.
Skaylink Consulting Services
Our cloud experts offer you a complete portfolio for your digital transformation from a single source.
How can we help you? Feel free to contact us.
Senior Cloud Security Consultant
Nickolas Webb
"Security measures have become a central part of any cloud solution, but the scope of where security measures are taken can quickly become confusing. Through the structured interview, we can inform all relevant stakeholders, as well as the AWS Teams themselves, on their current vulnerabilities in a constructive dialog, adding significant value together."
Work together with one of the first AWS partners
Skaylink

is

the

first

AWS

ProServe

Security & Infrastructure Preferred Partner in EMEA for AWS Security Assessments.

Skaylink

has been an experienced partner in the regulated industry for more than 20 years.

Our AWS security specialists have been audited by AWS Professional Services, and their performance and experience have been recognized as "raising

the bar

".

Skaylink

is the first AWS Security

Competency

Partner in the German-speaking region (Germany, Austria, Switzerland).

Skaylink

is in close contact with AWS Professional Services and it is continuously improving how it conducts security assessments.

Extensive

experience from other customer projects and environments

enhances the comprehensive question sets and provides an even broader view of potential problem areas

.
Practice Manager – Amazon Web Services (AWS)
Joaquin Gonzalez
"We are thrilled by the amount of acceleration that Skaylink and AWS jointly bring to our customers by increasing our collaboration and bringing our partnership to the next level. The AWS ProServe S&I Preferred Partner Program scales AWS ProServe's and Skaylink's ability to help customers adopt, innovate, and accelerate business imperatives in a secure manner."