DevOps adoption has become a crucial factor for any organization that wants to deliver solutions faster while creating greater efficiencies between developers and operations teams.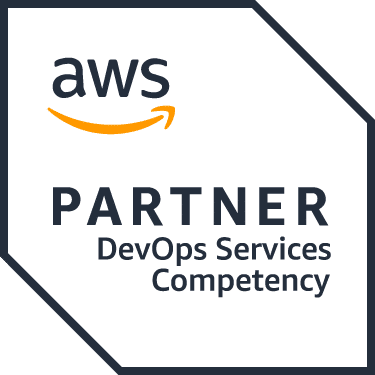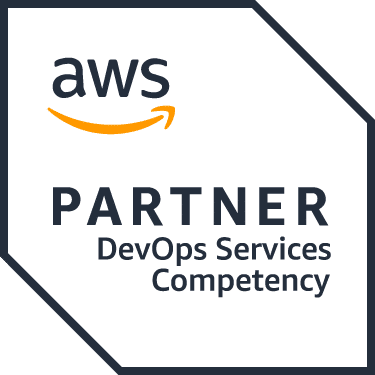 As the market leader in cloud applications, AWS is constantly providing new services as well as best practices and guides to implement DevOps with AWS to the market. As an Advanced Consulting Partner, Skaylink has developed a DevOps method that includes both the best practices from AWS and also our own many years of experience in supporting customers on their cloud and DevOps journey.
A unique range of offerings is the result of our many years of experience:
Consulting

DevOps maturity check: Skaylink evaluates your current methods and practices, the workflows of your teams and the tools and solutions that you use to analyze your current implementation and identify potential for improvement.
Enablement workshops: We have developed and held countless workshops on AWS services with curated content that is based on AWS best practices and Skaylink experience. You can choose from a list of ready-to-book workshops ranging from AWS basics to advanced topics like Infrastructure as Code or DevOps Tooling.

Implementation/projects:

Use our expertise to carry out your projects with DevOps methods. Covering everything from Infrastructure as Code and continuous integration to continuous delivery/deployment and architecture design and implementation, we have many years of expertise in delivering end-to-end cloud-native projects.

Operations:

DevOps as a service: Our extension approach makes it possible for you to book experienced DevOps experts for your projects – with very simple contractual models.
DevOps orchestration: With this approach, we combine our DevOps knowledge and our experience in your team. In other words, we work together with you on your projects and offer DevOps methods, coaching and support. Usually, this involves a long-term commitment that is streamlined with an effective transformation in mind.
Selected projects and solutions
This list provides a quick overview of the topics on which we work (for data protection reasons, no customer details will be listed).
Qualification of developers in the field of AWS Elastic Beanstalk
Quick qualification of developers in Elastic Beanstalk
Extended workbench to support DevOps topics for development teams
Operation of multiple productive applications with hundreds of environments that run on Elastic Beanstalk
Use of Infrastructure as Code (AWS CloudFormation) and extended customer-specific adaptations (.ebextensions)
CI/CD for quick availability with native AWS services
Extended security
Container-Orchestrierung mit Kubernetes
Design, Implementierung und Betrieb von EKS-Clustern für mehrere Tenants
Vollständig automatisierte Einrichtung von Clustern mit Infrastructure as Code (Terraform, CloudFormation/EKSCTL)
Einrichtung und Konfiguration von CI/CD-Pipelines für die Anwendungsbereitstellung, vollständig automatisierter End-to-End-Prozess
Erstellung eines kundenspezifischen Container-Orchestration-Konzepts mit Best Practices und Architektur-Blueprints
Unterstützung von ISV bei der Umwandlung aktueller Lösungen in cloudnative Services
DevOps Maturity Assessment und Enablement durch Workshops
PoC, um eine Anwendung in die Cloud zu überführen
Anwendung von Serverless Frameworks (serverless.com, SAM) und AWS Cloud-Native Services (Lambda, API Gateway, S3, Secrets Manager, DynamoDB)
Kostenoptimierung durch die cloudnative Einführung führt zu einer erheblichen Kostenreduzierung gegenüber herkömmlichen instanzbasierten Lösungen
Serverlose Anwendung zum sicheren Austausch von Passwörtern (OTP)
Entwicklung eines sicheren Portals für die gemeinsame Nutzung von Passwörtern mit AWS-cloudnativen Services
Serverlose Anwendung mit AWS Lambda, API Gateway, DynamoDB, S3, KMS
Schritt 1:
Der Client verbindet sich mit der Anwendung, die eine statische S3-Website hinter CloudFront ist.
Schritt 2:
Der Client sendet den geheimen Text auf sichere Weise an eine Lambda-Funktion, die hinter einem API-Gateway läuft.
Schritt 3:
Die Lambda-Funktion generiert einen zufälligen Schlüssel zum Verschlüsseln des Geheimtextes. Anschließend wird das verschlüsselte Geheimnis in einer Dynamo-DB gespeichert.
Schritt 4:
Die ID des verschlüsselten Inhalts wird mit dem Verschlüsselungsschlüssel (KEY) zusammengefügt und beide werden erneut mit einem KMS-Schlüssel verschlüsselt.
Die daraus resultierenden Daten werden an den ursprünglichen Client zurückgeschickt.
Schritt 5:
Der*die Empfänger*in des geheimen Links sendet die verschlüsselten Daten an das Backend. Die Lambda-Funktion verwendet denselben KMS-Schlüssel, um diese Daten zu entschlüsseln und die geheime ID und den KEY zu extrahieren, mit dem sie ursprünglich verschlüsselt wurden.
Beachten Sie, dass dieser SCHLÜSSEL niemals im Backend gespeichert wird, so dass selbst ein direkter Zugriff auf die Dynamo-DB-Tabelle nutzlos ist.
Die abgerufenen Daten werden entschlüsselt und erneut über HTTPS an den Client gesendet.
This might also interest you
Do you have questions for our experts?
Are you unsure where your digital journey should take you?
Just fill out the form to the right and we will be in touch with you shortly.