Transform your data into results
Data analysis often forms the basis for new business models. With our Data Analytics Services, using artificial intelligence, we help you evaluate internal and external (real-time) data properly and develop new products and services for a data-driven business. Machine learning is an important element of this. 
Our services cover the entire data process: from data capture to data transformation and data pipelines, from data lake management to development of machine learning models and data visualization and interpretation.
We customize the solution completely to satisfy your needs. Our experts can offer a complete implementation and management solution or, if you prefer, we can arrange a joint setup with a team from your company.
We work together with all major public cloud providers and have extensive experience with all the important data analysis tools and AI frameworks.
What does Skaylink offer?
More than 10 years of competence, experience, and creativity
Holistic approach to data processing and management
95% of the work in a machine learning project has nothing to do with machine learning. The focus is on developing stable and reliable data pipelines. We have been developing and operating these reliably for many years.
Best practices from ten years of successfully implementing AI and data pipelines
Stable and reliable IT solutions
Business intelligence is considered a driving force in the modernization of IT infrastructure and digitalization. This involves the collection of company-relevant data from various sources, as well as its systematic evaluation and presentation in real time.
Capturing, storing and analyzing huge volumes of data is a challenge that can be met with the use of cloud technologies.
Cloud solutions allow large volumes of data to be processed and analyzed. Machine learning algorithms attempt to identify patterns in existing data sets and use these as a basis to make forecasts.
Offers from the Skaylink portfolio (excerpt)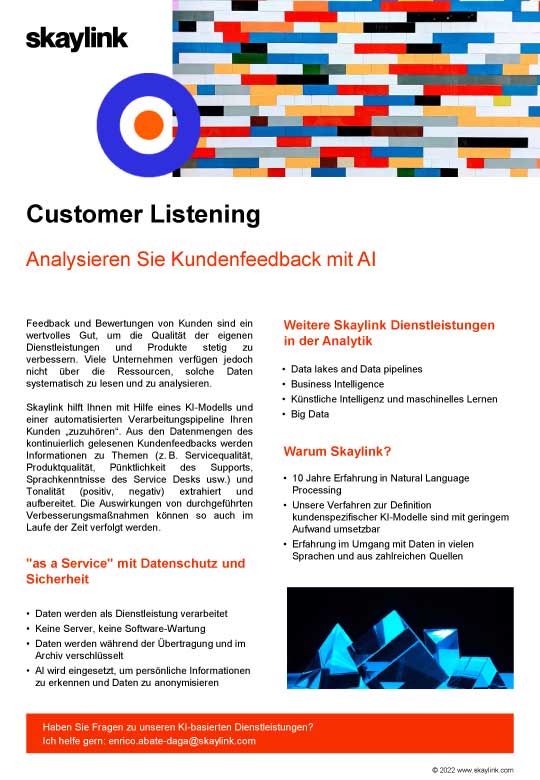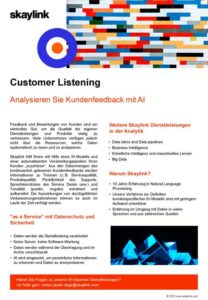 We've summarized in a document for you to download how valuable information can be extracted from customer feedback to improve your services and products.
Skaylink Consulting Services
Our experts offer you the complete portfolio for data analysis from a single source.
How can we help you? Feel free to discuss your needs with us.
Let's start the future together
Are you unsure where the digital journey should take you? Our experts will be happy to answer your questions without obligation!
Just fill out the form to the right and we will be in touch with you shortly.