Finalist Microsoft FastTrack Ready Partner of the Year 2023
Skaylink recognized as a finalist of 2023 Microsoft FastTrack Ready Partner of the Year
Munich — June 28, 2023 — Skaylink today announced it has been named a finalist of FastTrack Ready 2023 Microsoft Partner of the Year Award. The company was honored among a global field of top Microsoft partners for demonstrating excellence in innovation and implementation of customer solutions based on Microsoft technology.
"We are thrilled that Microsoft has chosen to present an award in the FastTrack Ready category for the first time. We owe this success to our FastTrack team with years of experience. With our detailed best practices, certified FastTrack experts and through the deep integration with other Skaylink offerings, we guide each company to success along its individual cloud journey," explains Frank Strecker, CEO of Skaylink GmbH.
The Microsoft Partner of the Year Awards recognize Microsoft partners that have developed and delivered outstanding Microsoft-based applications, services and devices during the past year. Awards were classified in various categories, with honorees chosen from a set of more than 4,200 submitted nominations from more than 100 countries worldwide. Skaylink was recognized for providing outstanding solutions and services in FastTrack Ready.
The 2023 Microsoft FastTrack Ready Partner of the Year Award recognizes excellence in assisting customers to realize value through delivery of the FastTrack Benefit for Microsoft 365. Skaylink has fully integrated the FastTrack Benefit into the customers' go-to-market approach. Skaylink also demonstrates its proficiency in delivering value-added services to maximize deployment and adoption success for customers' Microsoft 365 investments.
"Congratulations to the winners and finalists of the 2023 Microsoft Partner of the Year Awards!" said Nicole Dezen, Chief Partner Officer and Corporate Vice President of Global Partner Solutions at Microsoft. "The innovative new solutions and services that positively impact customers and enable digital transformation from this year's winners demonstrate the best of what's possible with the Microsoft Cloud."
The Microsoft Partner of the Year Awards are announced annually prior to the company's global partner conference, Microsoft Inspire, which will take place on July 18-19, 2023. Additional details on the 2023 awards are available on the Microsoft Partner blog: https://aka.ms/POTYA2023_announcement. The complete list of categories, winners and finalists can be found at https://partner.microsoft.com/en-US/inspire/awards/winners.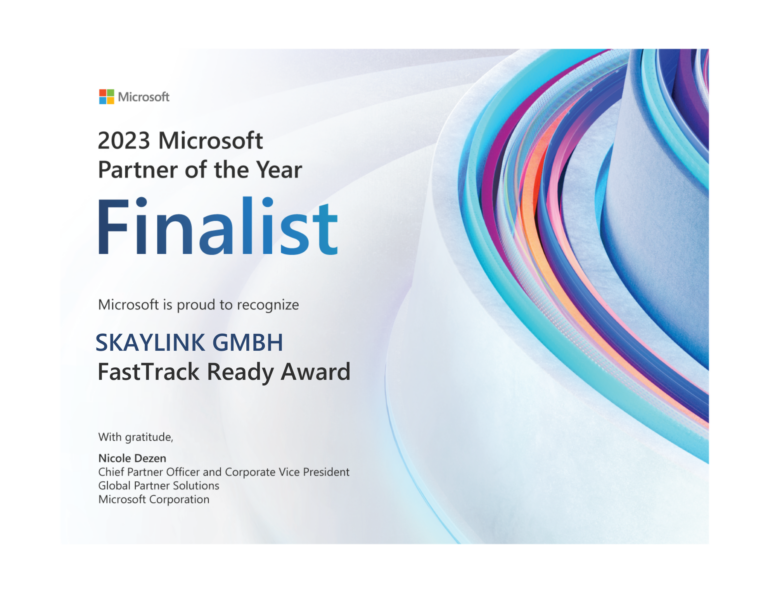 Skaylink GmbH is a leading service provider for cloud and digital transformation. Its global team of over 500 cloud enthusiasts creates unique cloud solutions for companies, and the people who shape them, to fully develop their potential. Skaylink guides its clients along the entire cloud journey with a mix of inhouse-developed tools and methods. Skaylink's DNA is a blend of cloud pioneers Beck et al., binary GmbH, direkt gruppe, and infoWAN. Recent acquisitions include AWS specialists root360 from Leipzig, the Danish Azure specialists cVation, and the Lithuanian cloud pioneer BTT Cloud. For more information, see skaylink.com.
Let's start the future together
Are you unsure where the digital journey should take you? Our experts will be happy to answer your questions without obligation!
Just fill out the form to the right and we will be in touch with you shortly.