Cloud solutions for BaFin-regulated banks and insurance companies
We help BaFin-regulated industries (FSI) overcome IT security and compliance challenges
Skaylink supports banks and insurance companies (Financial Services Industry, FSI) to implement their digital strategy in a compliance-conforming manner, taking BaFin (Federal Financial Supervisory Authority, Germany) requirements into account.
We simplify complex processes through automated work steps that are efficiently tailored to customer needs. It is not only about the technical implementation but also about the interaction between the IT department and business unit.
The aim of the insurers' IT departments must be to quickly and flexibly adapt products, business processes and customer channels to the requirements of business units and customers. Ongoing changes and new requirements are leading to great expectations towards infrastructures, data processing and security.
With the help of our experts and the experience they gained from various projects in the FSI environment, we accompany our customers safely on their digital journey.
Examples of success (excerpt)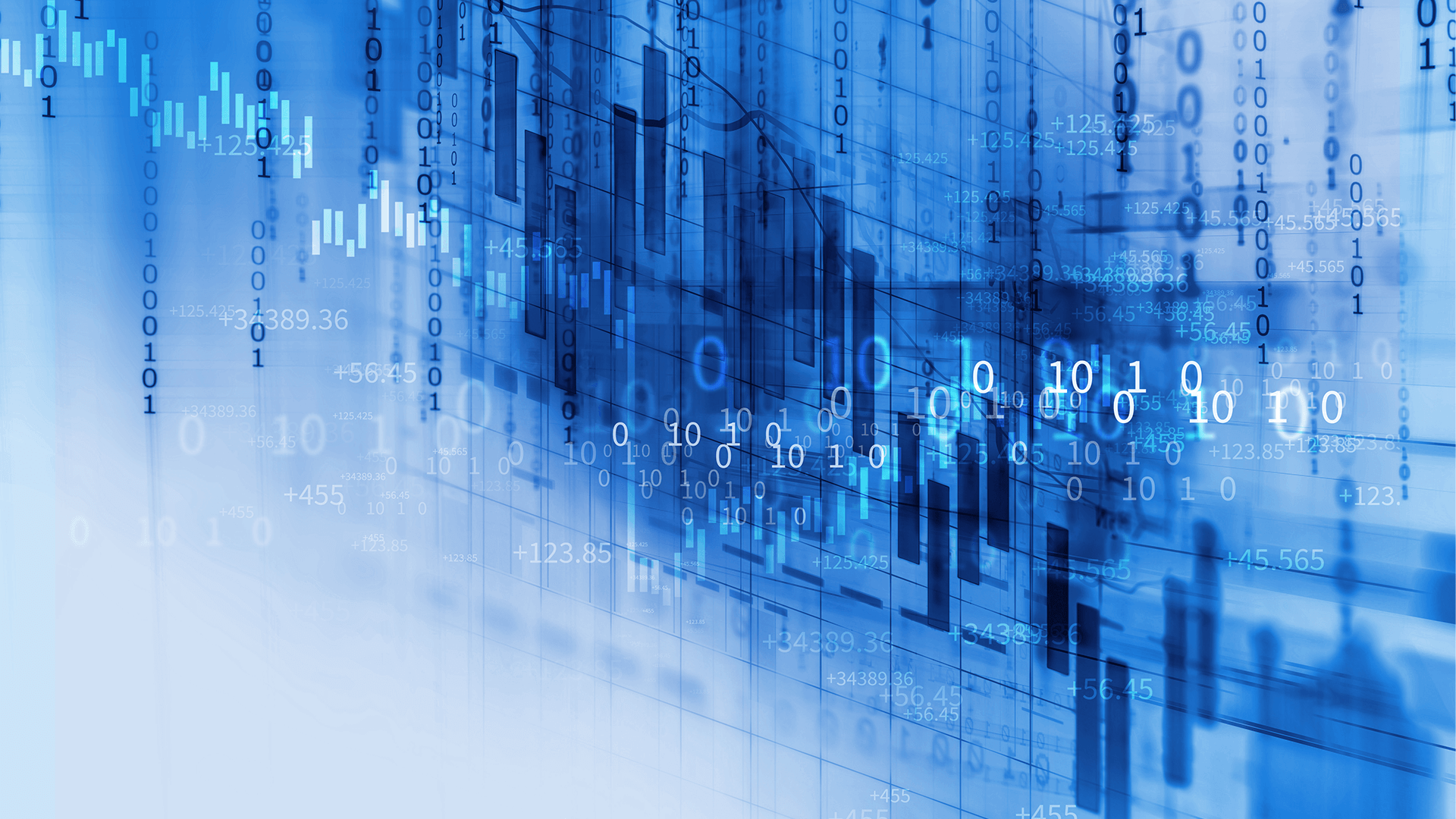 Facit Bank – An Internet-Based Bank in the Public Cloud
Find out how Facit Bank benefits from the Azure public cloud to meet financial regulatory requirements.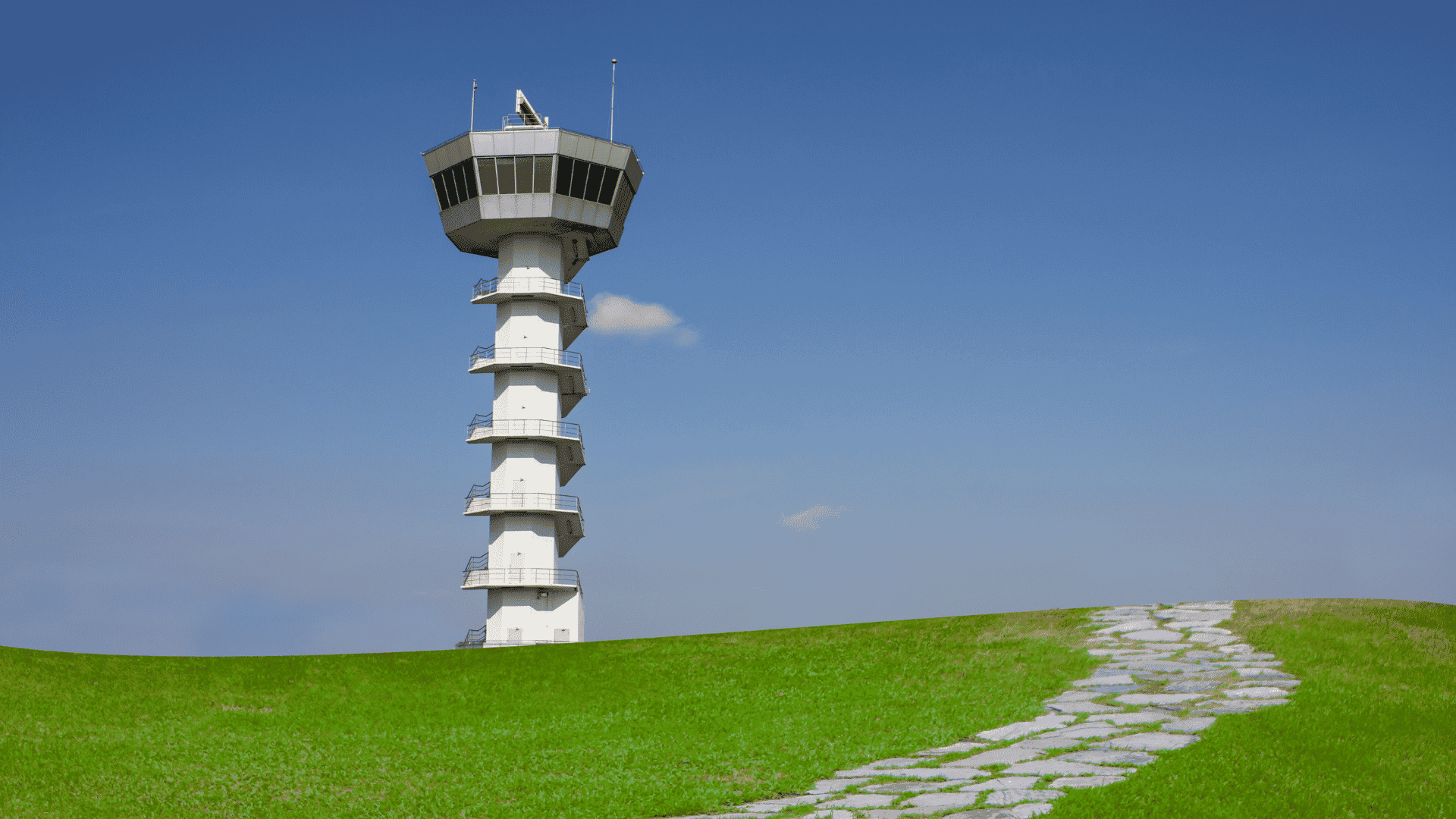 AWS Control Tower – Secure Multi-Account Setup at the Push of a Button
For a big data project for Roland Rechtsschutz, Skaylink was able to provide support with their AWS expertise for highly regulated industries.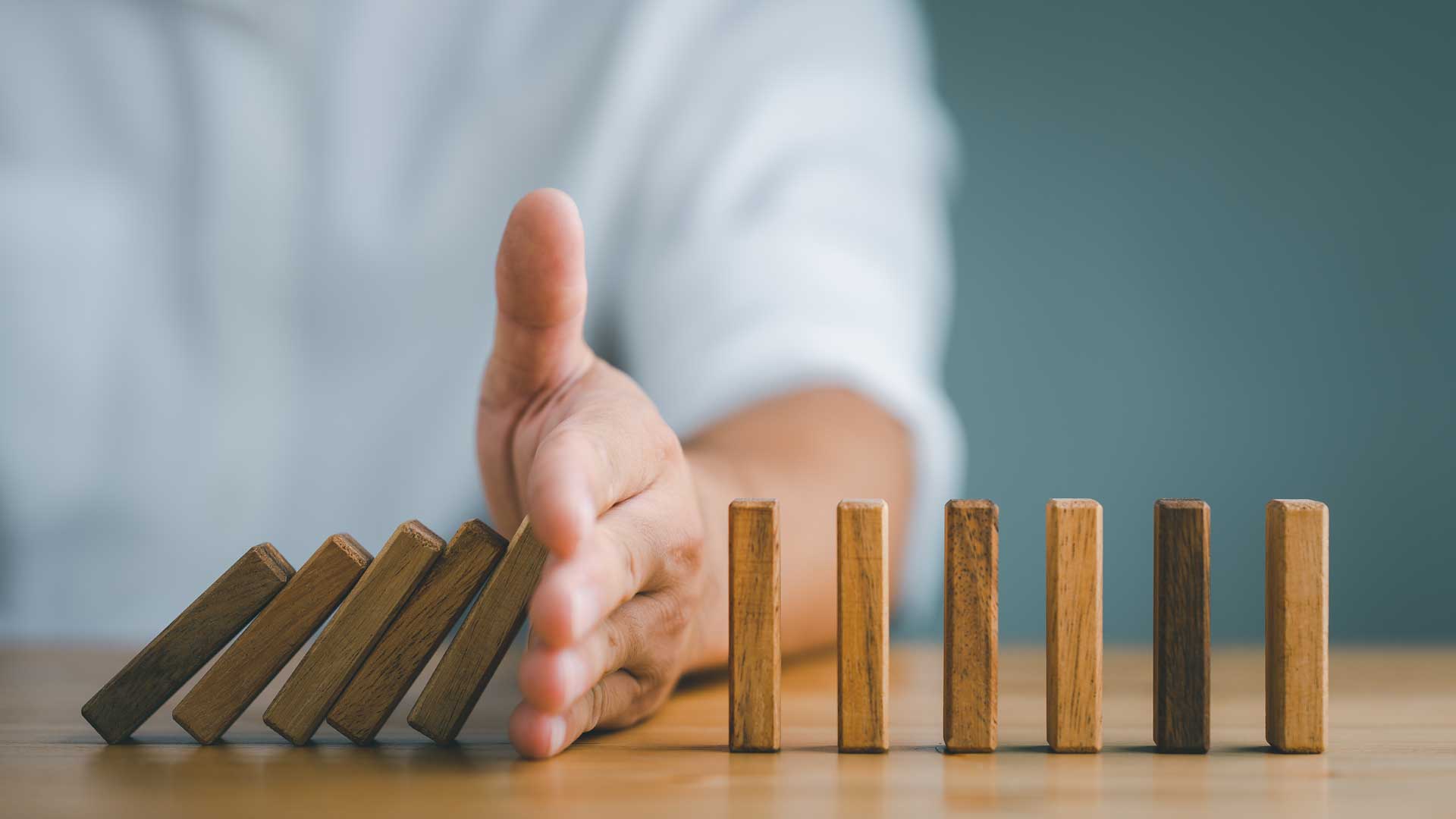 Risk Management in the Insurance Sector
Cloud-based risk management – The future of the insurance industry Regulatory requirements …
Examples from the Skaylink portfolio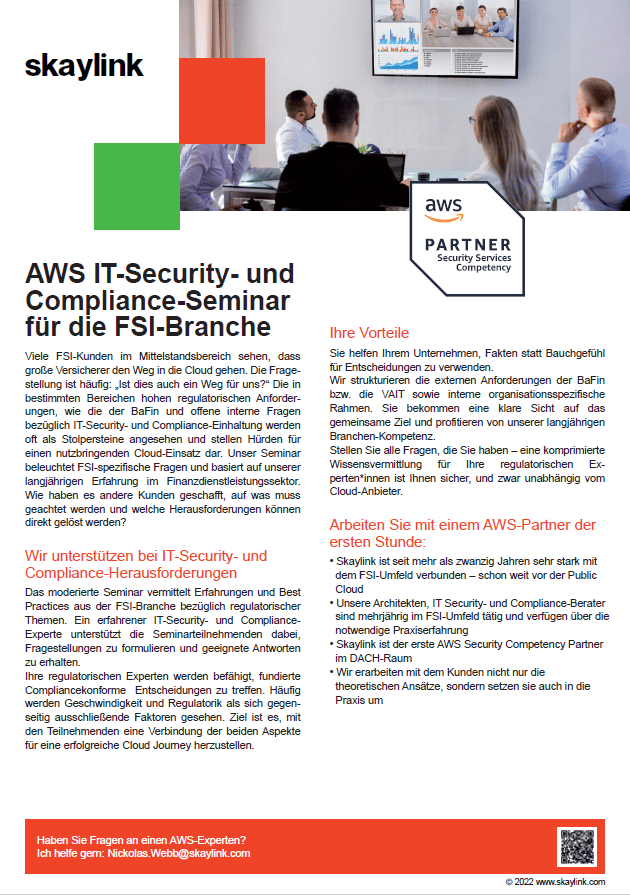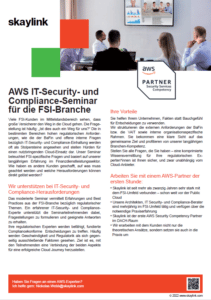 AWS IT Security und Compliance Seminar for the FSI
Our seminar highlights FSI-specific issues regarding regulatory requirements, such as those of BaFin (Federal Financial Supervisory Authority, Germany), IT security and compliance, based on our longstanding experience in the financial services sector. What kind of action have other customers taken, what needs to be paid attention to, and what challenges can be solved directly?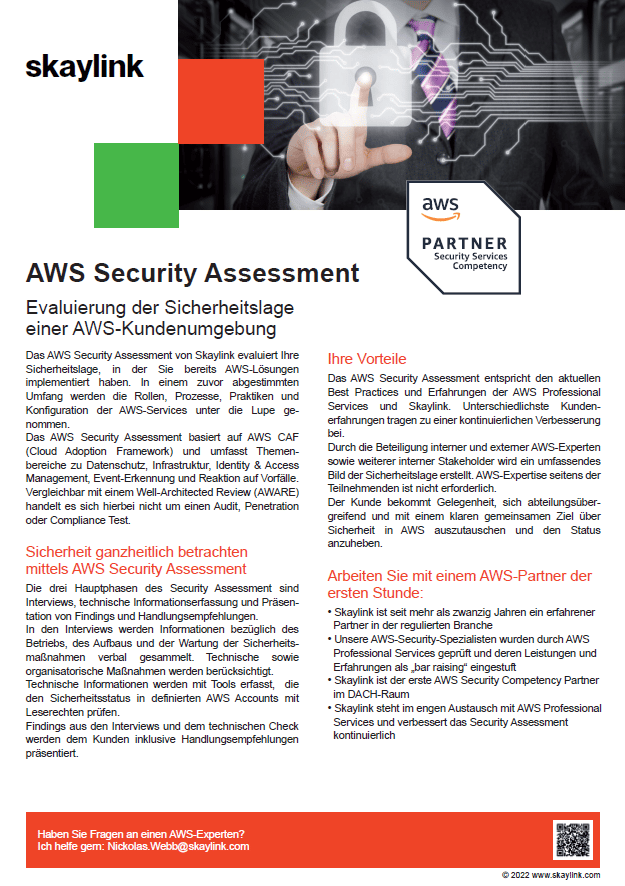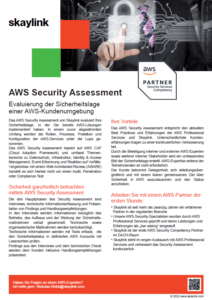 Evaluating the security posture of your AWS environment using AWS Security Assessment
The participation of internal and external AWS experts as well as stakeholders of your company contributes to a comprehensive picture of the security situation. The AWS Security Assessment covers issues related to data protection, infrastructure, identity & access management, event detection, and incident response.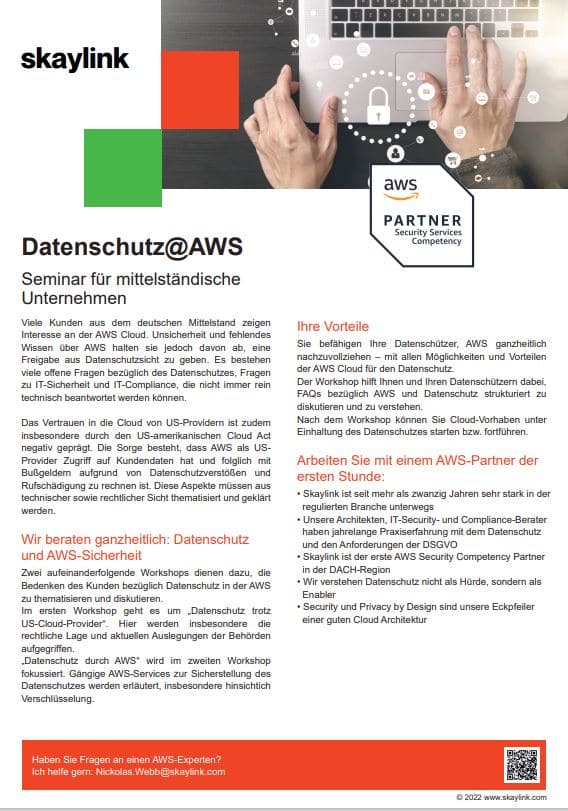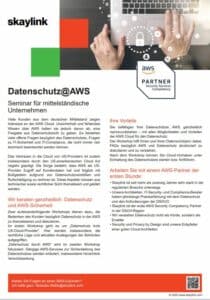 DataProtection@AWS – Seminar for Medium-Sized Companies
This workshop will help you and your data protection staff discuss and understand FAQs related to AWS and data protection in a structured way. Afterwards, you will be able to start or continue cloud projects in compliance with data protection.
Skaylink consulting services
Our cloud experts for AWS and Azure offer you the complete portfolio for your digital transformation from a single source. How can we help you? Please do not hesitate to contact us.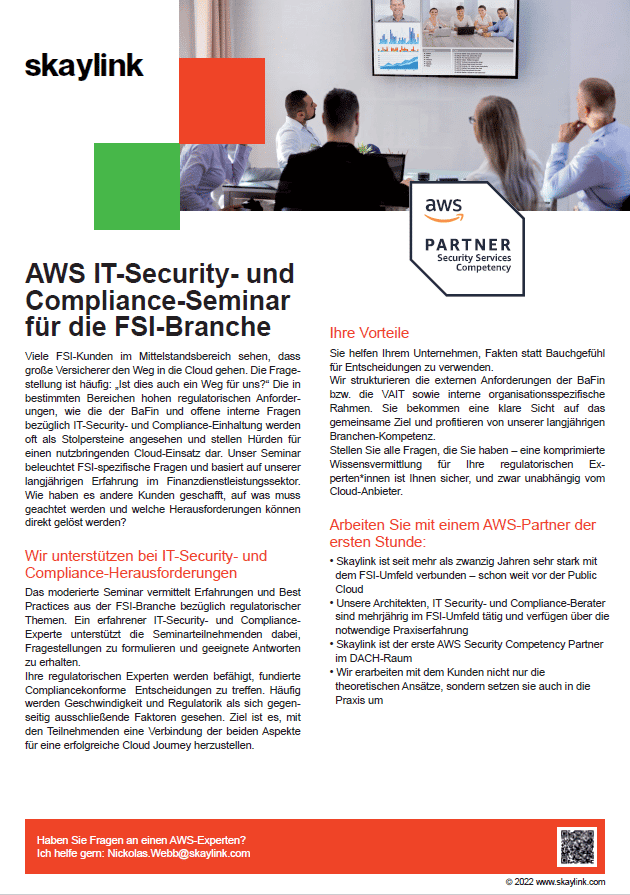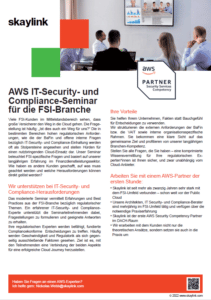 AWS IT Security and Compliance – Seminar for the Financial Services Industry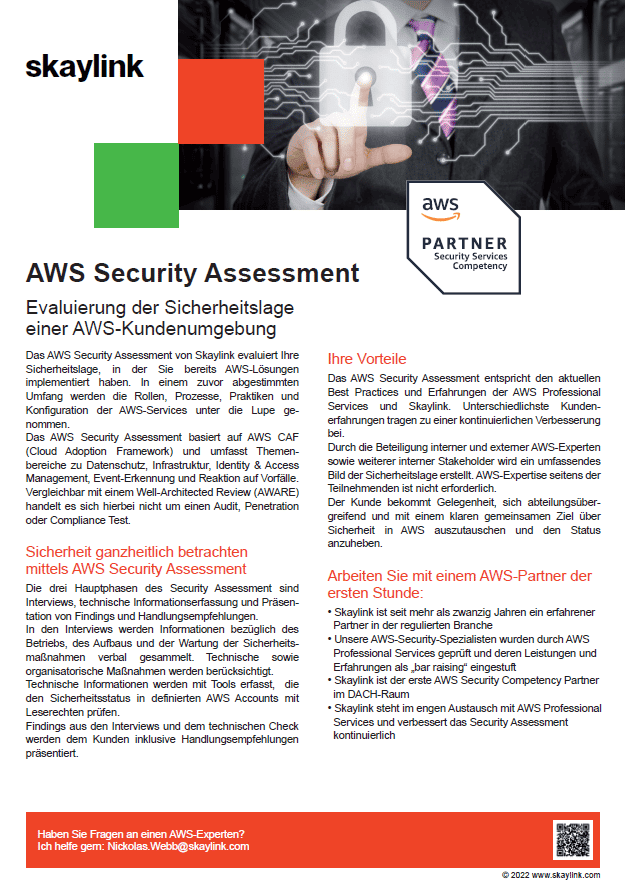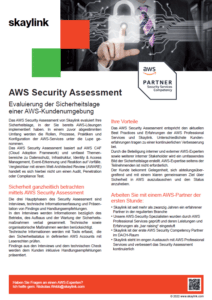 Evaluating the Security Posture of Your AWS Environment with AWS Security Assessment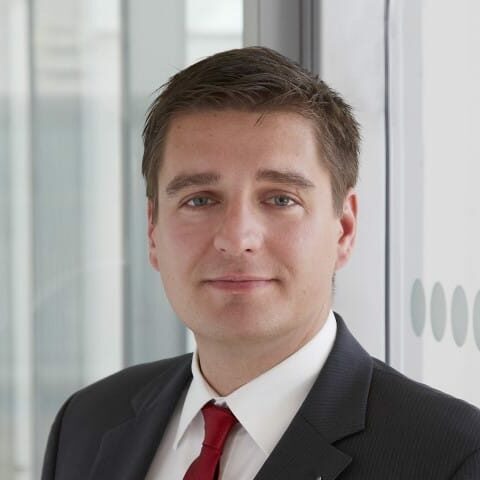 Adrian Wnek
Principal Cloud Consultant 
"We have been helping customers from the insurance world move to the cloud since 2012. Cloud usage is becoming more and more common and provides a broad basis for our customers' future business in the world of finance and insurance."
What does Skaylink offer?
For more than 20 years, Skaylink has been very closely involved with regulated industries – well before the emergence of the public cloud
Outstanding partnerships with AWS and Microsoft for the FSI
Skaylink is the first AWS Security Competency Partner in the German-speaking DACH region (Germany, D – Austria, A – Switzerland, CH) and since 2022 the first DACH-wide AWS Professional Services Partner for security issues
Since 2012, we have been accompanying Germany's leading insurance companies on their way to AWS cloud solutions
We understand the industry and and support it with our experts who have many years of experience in the key areas: technology, organization and processes, regulations and project management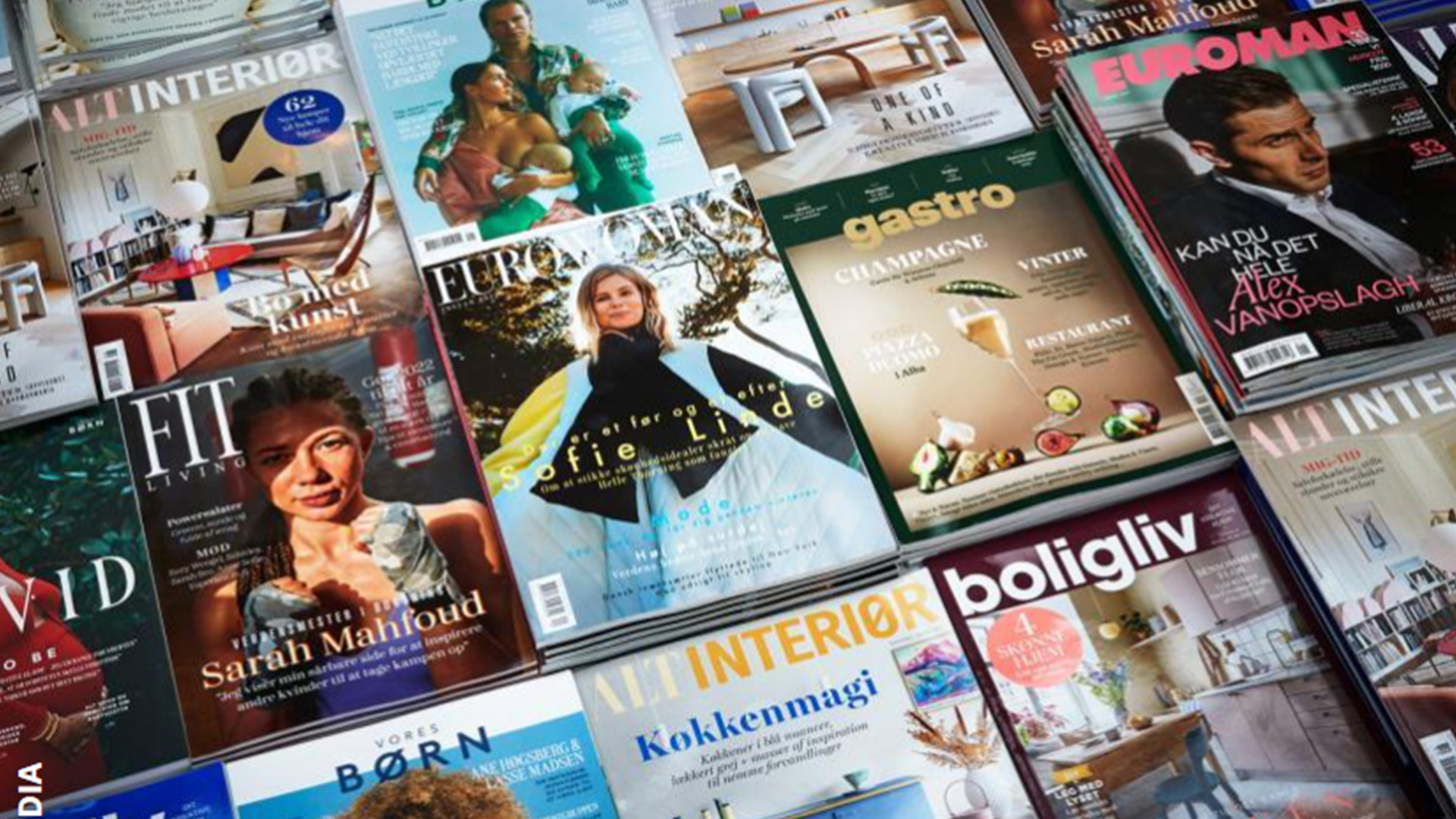 Story House Egmont – digitized and streamlined in just three months
Find out how modernization measures have created a tailor-made and individual experience. …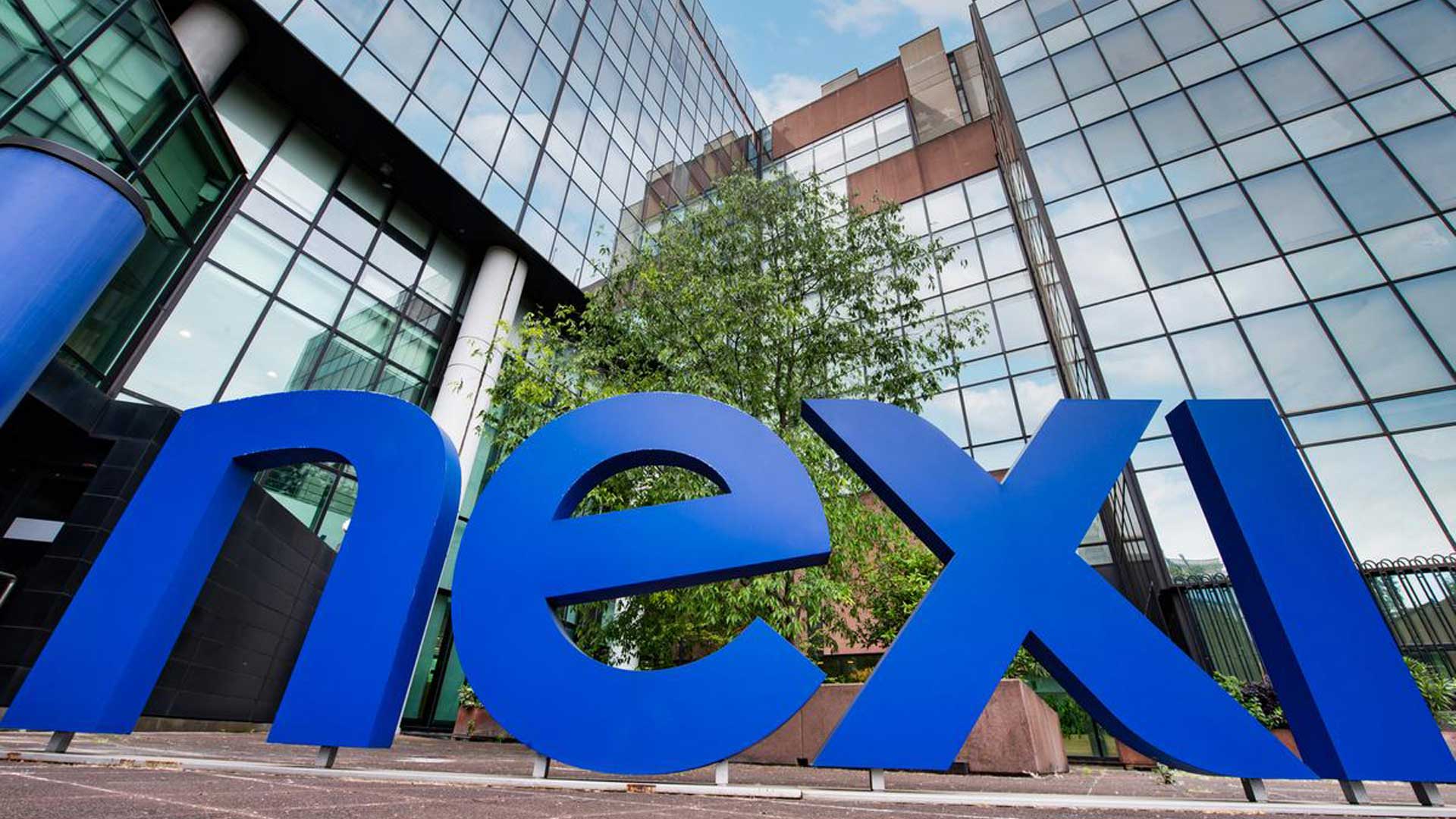 Nets achieves strong DevOps mentality with "You built it, you run it"
Learn how we helped move Nets Easy-product to a Cloud-platform. …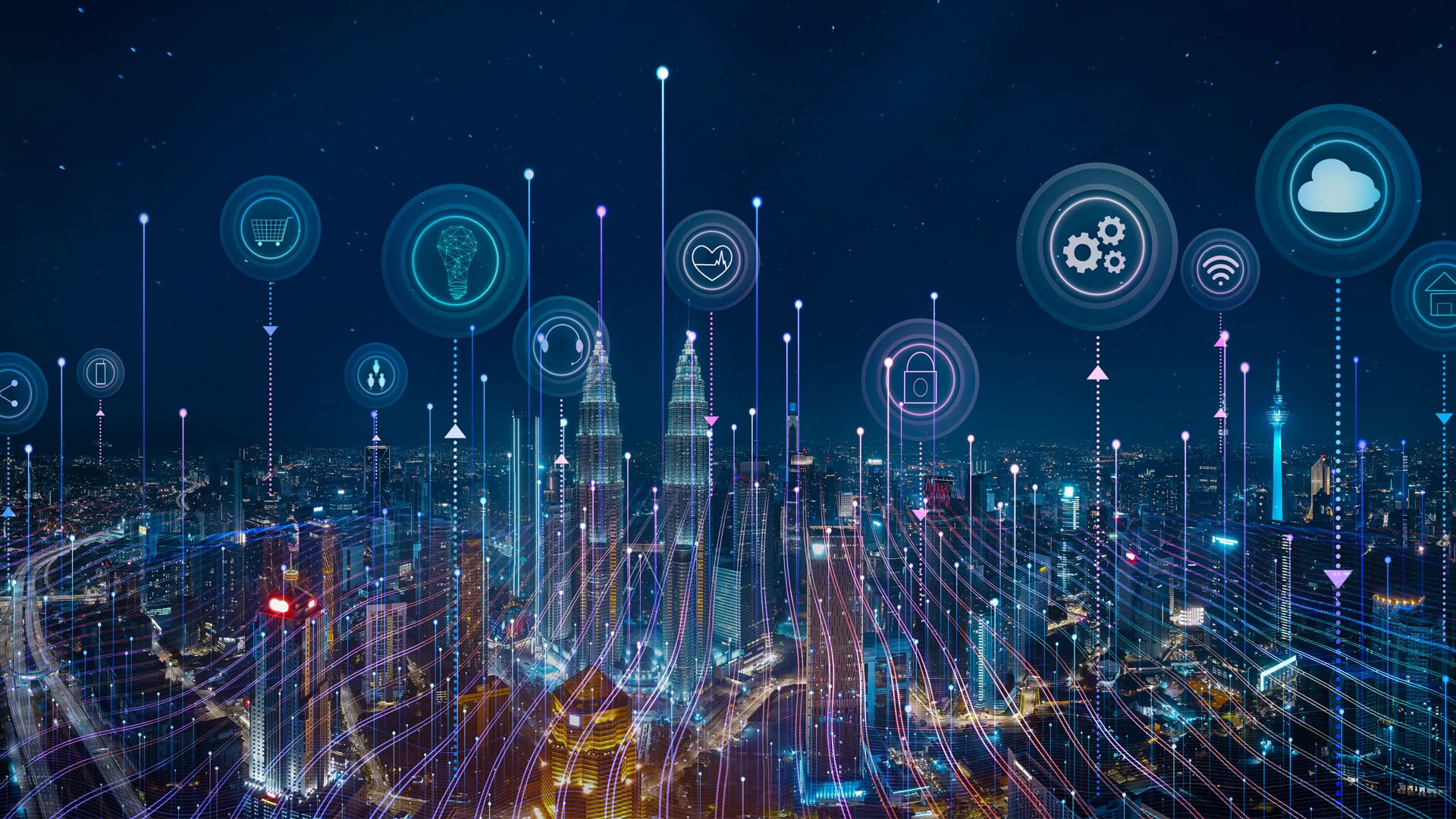 Future-Proof Enterprise Social Network for Continental
Continental is the first enterprise company to migrate Connections to the AWS …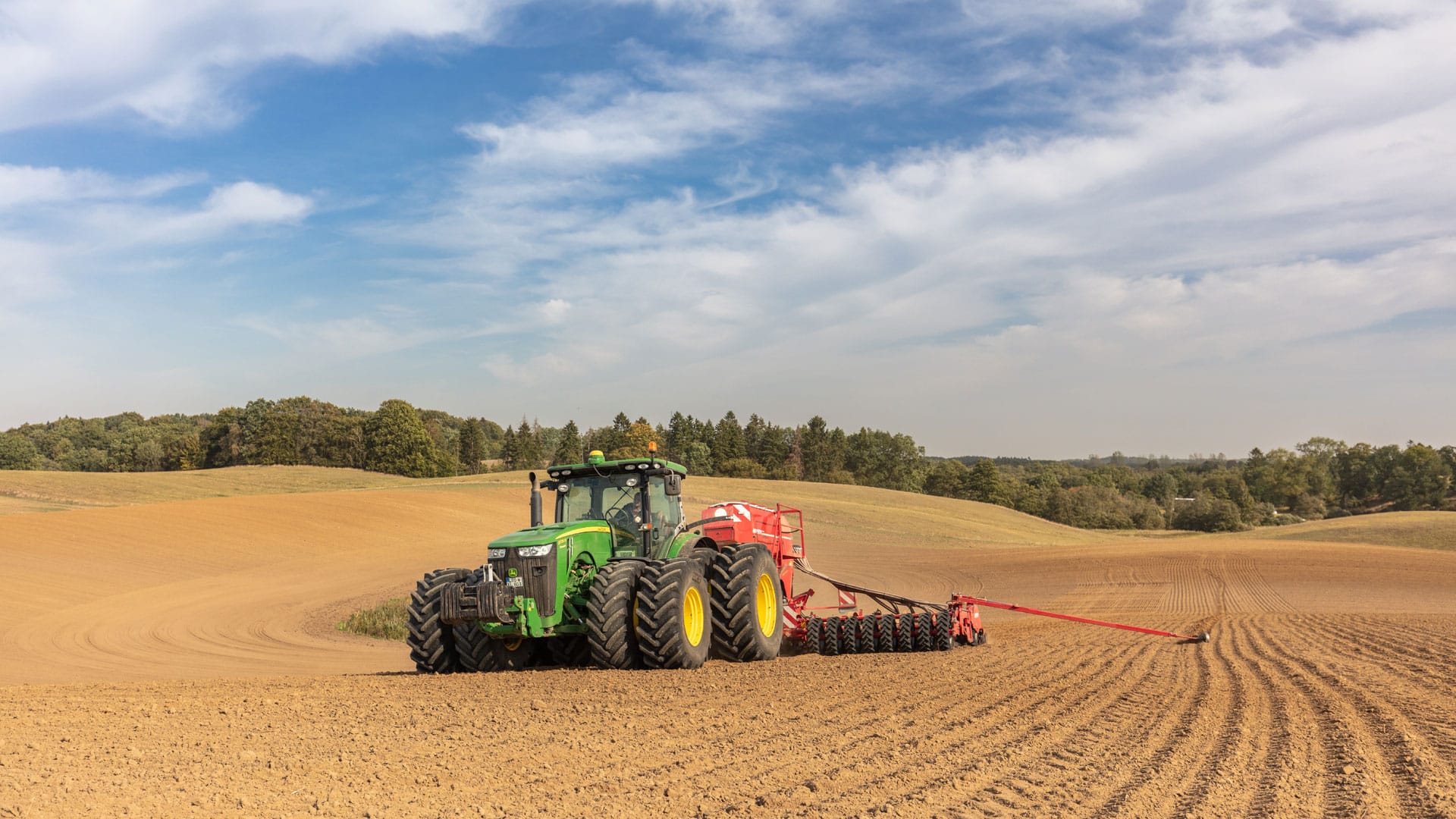 KWS and Skaylink Promote a Digital Product Portfolio
KWS focused on cloud technologies such as platform-as-a-service, containers & cloud-native services …
Do you have questions for our experts?
Are you unsure where your digital journey should take you?
Just fill out the form to the right and we will be in touch with you shortly.