The movers and shakers at Skaylink are our employees. And every customer is entitled to Skaylink's full network knowledge. That is the measure of how we organize ourselves.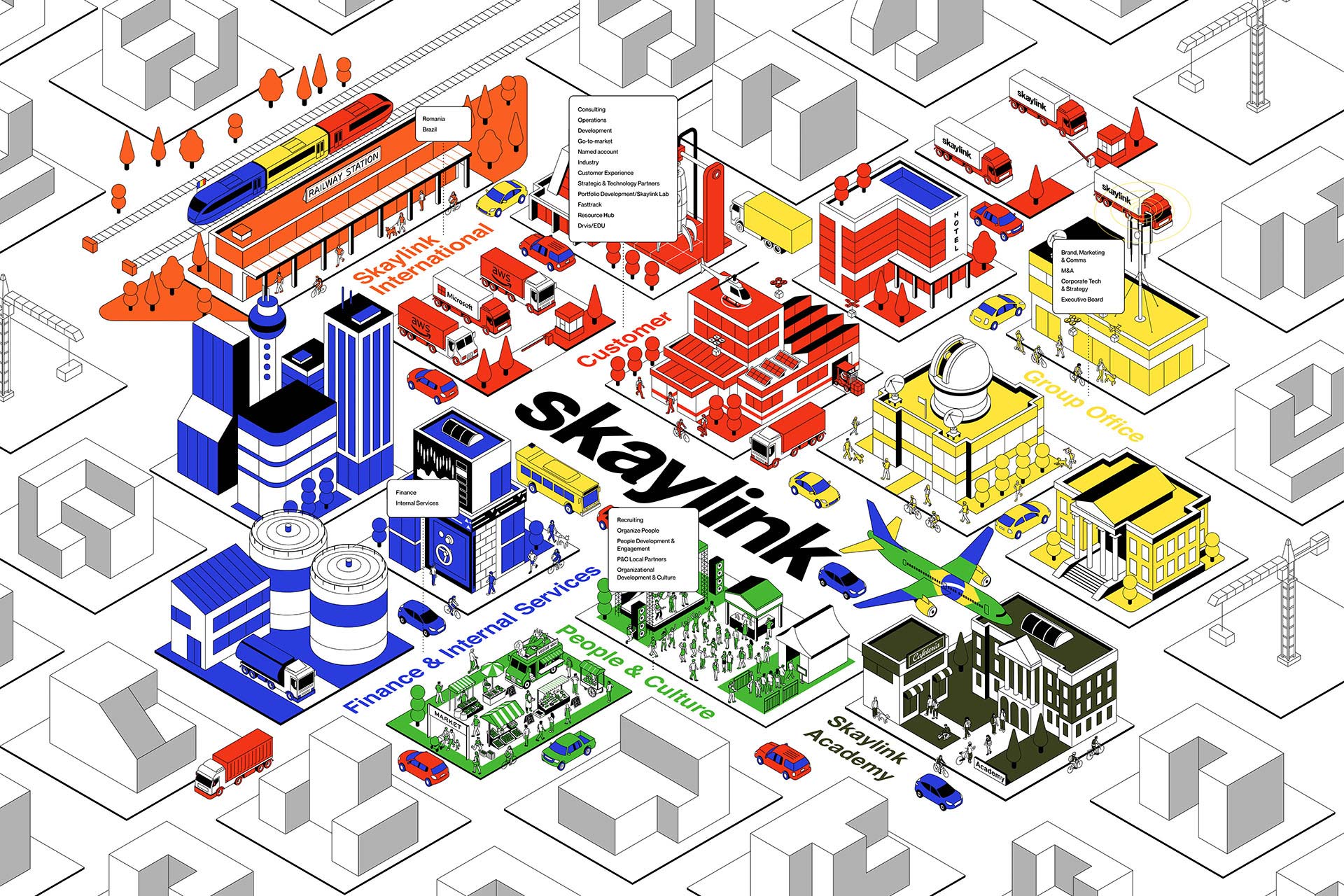 For us, organizing ourselves from the customer's perspective means working in a network and not tolerating isolated silos. That's why we have organized ourselves into "Circles" and "Practices" and believe strongly in the consensus principle.
Our work culture is therefore geared towards collaborating, networking everyone's creativity and innovation, and supporting each other in a way that creates added value for the customer.
A good representation of our organizational principle is our Skaylink City: vibrant, in constant exchange, interconnected and with room for growth.
The power of Skaylink is fed by the combination of the four companies that came together to form Skaylink. The entrepreneurs of the original companies Beck et al, binary, direkt gruppe and infoWAN are still on board and form the management of Skaylink. The team is strengthened by CEO Heinrich Zetlmayer and CFO Ulrich Bannmüller.
Technologies and methods are tools, not ends in themselves. IT is made for people. That is why we attach great importance to respectful interaction and partnership at eye level.
Technical competence, digital working methods and a good feel for people
A lot of what we do means a change for our customers' employees. New work habits, new technology platforms, new processes and applications, and often a change in leadership style and collaboration.
We not only bring the technical expertise, we understand what change means and support our customers in avoiding the typical resistance to change.
"Above all, the topic of digital transformation and the workplace needs the right mindset to understand where the real challenges lie in the digital age. Siegfried Lautenbacher and his team at Skaylink can convince here with the right mix of technical expertise and the right mindset."
Hans-Jürgen Sturm, Amadeus IT Group, Head of User Experience & Innovation
Let's look at the big picture!

With Skaylink you have a partner who will do everything to increase your potential. We use our creativity and technical skills to help you succeed in the marketplace and drive your business forward. This is our motivation. And in Skaylink, they have a partner who knows what's important:

It's always about people. Naturally, we are excited about the ever new technical possibilities and we love to translate them into pragmatic, innovative customer solutions. But we always keep in mind the consequences for the people for whom we build our solutions. Your employees and your customers.

It's always about working together. Our work culture is therefore geared towards collaborating, networking everyone's creativity and innovative power, and supporting each other in a way that creates added value for customers.

It is always about a holistic approach. We know that technology, culture and working style are intertwined and good solutions always take all three aspects into account. We have the experience and the technical capabilities to enable you to solve your digital challenges. We will also show you how to make efficient progress on your digital roadmap. Our goal is to be much more than just a digital service provider for our customers, we want to become an integral part of our customers' business and success.
Let's start the future together.
Unsure where the digital journey should lead you? Our experts will be happy to answer your questions without obligation!
Simply fill out the form on the right and we will get back to you as soon as possible.