Dive into the cloud – get ready now!
We take your teams to the cloud – and we pick them right where they left off. In facilitated workshops, we will cover everything they need to know to get your cloud vision on a sound footing: security, compliance, technology, and operational aspects to develop a shared vision with your teams.
You are putting an end to the discussions around theoretical issues and concerns and get started now.
You are finally able to translate theoretical requirements of security and compliance into practical solutions.
You can structure the proliferation of unregulated shadow IT by setting clear goals.
You will promote a constructive dialog between the IT developers, IT operations and IT users.
You will expand the discussion of the cloud from a purely technical point of view to the necessary overarching issues.
You are able to see the connection between traditional IT and cloud IT.
You and your team will have a clear cloud vision and cloud roadmap.
You will replace "pseudo-agility" with solid, planned action.
What you get from cloud baselining:
Your customized cloud manual with a roadmap, work packages and recommended actions
Examples of successful real-world solutions
Real effort estimates for solid time and budget planning
Select additional modules as needed:
Cloud Advisory Workshop
SAP and Cloud
Container Enablement
Application Architecture in Public Cloud
Methods of Workload Migration in Public Cloud
DevOps
Individual Content
Technology / Architecture
Take everyone with you when you move to the cloud
With over 20 years of experience in complex IT projects, the most important lesson we have learned is that a cloud implementation cannot be successful if only IT is involved. It may seem more convenient at first, but the demands and objections will come sooner or later – and rightly so, sooner rather than later.
We believe that knowledge must not only be collected, but also shared. For example, the free Cloud Advisory Workshop module offered as part of Cloud Baselining brings all project participants together, brings them to the same level of knowledge and thus on the same path to the cloud.
This also prevents different people from thinking about the same topic without sharing ideas and reinventing the wheel over and over again. This eliminates frustration and creates time to reach the common goal faster.
For our customers, the added value of the free Cloud Baselining modules is particularly evident in the focus on areas such as workload migration or the identification of potential weak points in application architectures. With our proven methodologies and best practices, customers quickly achieve visible and measurable success. This is approach is also useful when it comes to special topics such as SAP and cloud or container enablement.
We will work together to plan, design, and implement your cloud transformation. This ensures that no requirements are overlooked.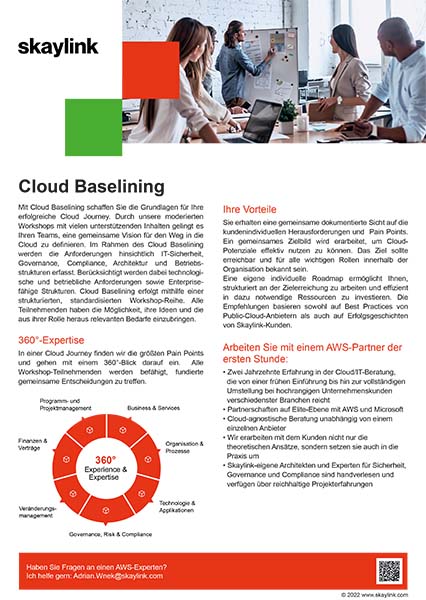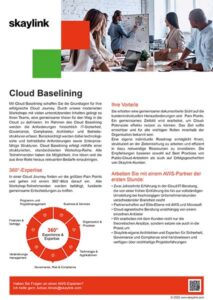 Fundamentals of a successful cloud journey
You can download the compactly prepared information on cloud baselining as a PDF here. 
Adrian Wink
Principal Cloud Consultant Shaylin
Cloud Baselining helps immensely to identify common goals and obstacles and to communicate views of all stakeholders."
This might also interest you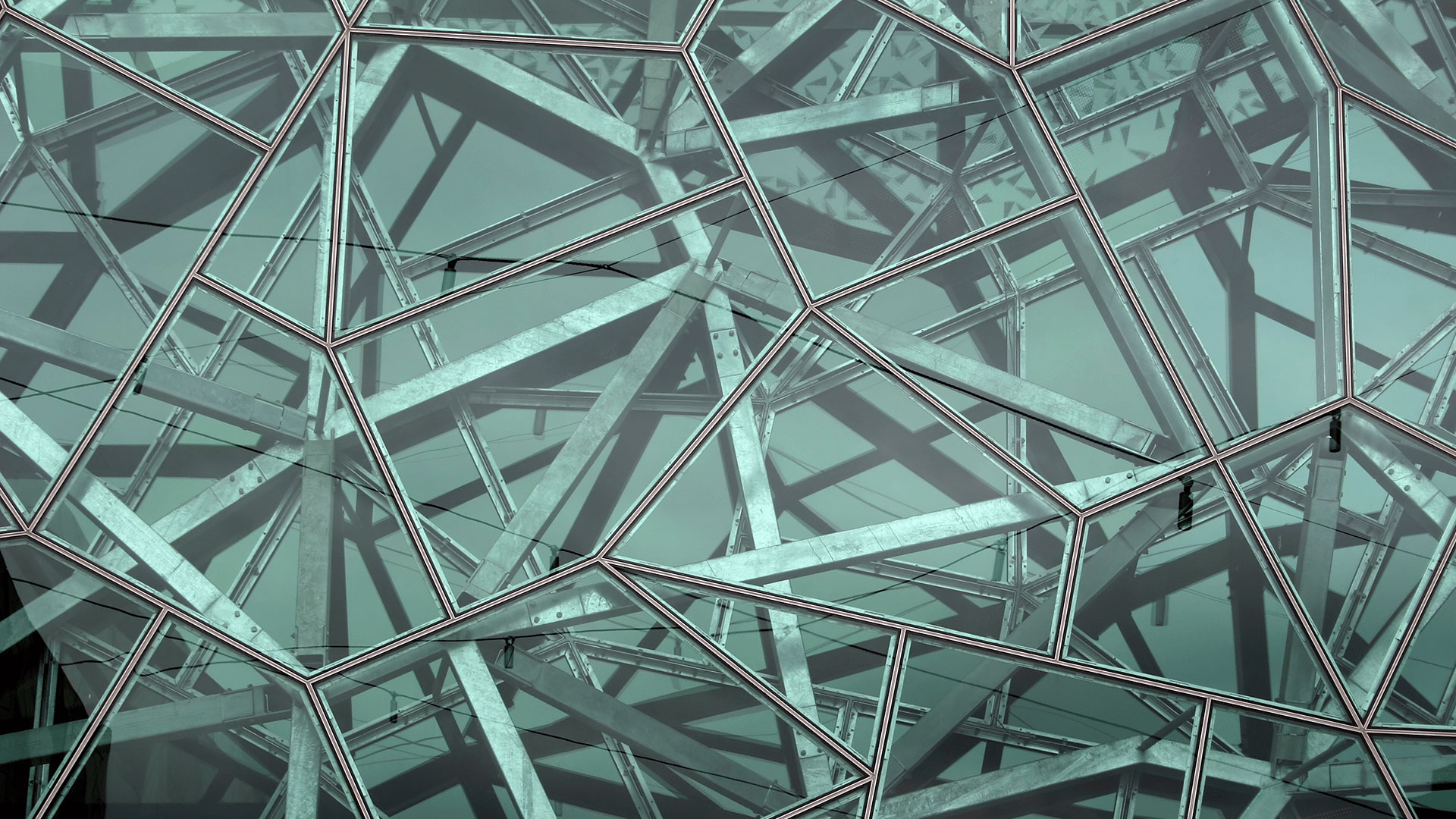 Strategic path to the cloud without stumbling blocks
Read here in the blog how Skaylink's cloud baselining simplifies your entry …
Do you have questions for our experts?
Are you unsure where your digital journey should take you?
Just fill out the form to the right and we will be in touch with you shortly.